Empty space, drag to resize
PROTECTING YOUR STORYTELLING POWER
Strategies For Black Artists
The Why And The How In Three Parts
In partnership with the Association of Independent Colleges of Art and Design (AICAD)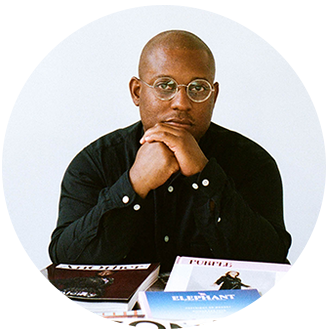 Course Description
1. Introduction
"Protecting the Black Narrative is about creating new archives that properly canonize our place in time… We must end the cycle of compromising our identities to participate in wealth production." –Amani Olu


More than ever, cultural venues are rushing to associate themselves with the work of Black artists. While taking a step in the right direction, these institutions—primarily led by white individuals—do not always have the patience, language, and lived experience to contextualize the work as intended. As a result, many Black artists find that the people representing them often misrepresent or silence their ideas to move a sale forward, placate leadership, or make the viewing experience comfortable for white audiences.


In this first of three videos, Amani Olu, founder of the marketing agency Olu & Company, introduces the idea of a toolkit and the initial steps for Black artists to safeguard their stories, beginning with identifying core values.

This lesson consists of a 5-minute video followed by worksheets that should take at least an hour of contemplation.


Provide Black artists with practical strategies to develop an authentic narrative and protect their storytelling power from the white gaze.
Introduce the personal and historical underpinning of the course.
Position artists as the empowered originators of their own stories.
• Describe what it means to file taxes, who needs to file, and why everyone should file (regardless of pay threshold).
• Explain what the IRS considers to be "income."
• Explain self-employment tax for freelancers.
• Explain what could happen if you don't file taxes or pay estimated quarterly taxes.
• Describe when the tax deadline normally happens each year.
• Explain the deadlines for estimated quarterly taxes and how they differ from the annual tax deadline.
• Differentiate between the deadline to file taxes and the deadline to pay them.
• Describe a few strategies to prepare yourself for the tax deadline each year.
• Research and choose a system to track income and expenses.
• Track your expenses income in anticipation of tax filing.
2. Tell Me About Your Work
In the second of three videos, marketing guru Amani Olu positions your five core values as the foundation for a powerful narrative toolkit. He walks you through several pieces of writing you should complete, from biographical information to artist statements to lists of words that people should or should not use when discussing your work. While you cannot control what other people do or say, you can provide thoughtful context to guide interpretation and ensure you and your work are more accurately represented.

This lesson consists of an 8-minute video, followed by several hours of worksheets that should be done over the course of several days and revisited periodically.
Introduce six pieces of writing important to every Black artist's toolkit.
Describe the differences between each piece of writing and why they are important.
Prepare artists for the inevitable request "Tell me about your work."
Demonstrate the difference between clear and ambiguous writing.
• Explain the importance of tracking income and expenses accurately so that audits (if and when they happen) are not scary.
• Describe the basics elements of a tax appointment and what information you need to gather before sitting down with a tax filing program or a tax professional.
• Explain what constitutes income; differentiate between income that is taxed and untaxed.
• Define a Schedule C and what might be included on it.
• Explain what helps to substantiate you are a professional artist/creative pursuing an art career.
• Explain what constitutes a business expense. Give several examples of business expenses.
• Explain how all payments are income, no matter what form the payment takes.
• Define tax evasion and its threshold.
• Describe different options you have if you cannot pay a tax bill.
• Define Gross Income and explain how Schedule C business expenses change Gross Income to Net.
• Describe how many years you need to show a profit every five years.
• Define self-employment tax and explain how W2'd employees pay social security and medicare and how self-employed individuals pay for social security and medicare.
• Define W9, when you have to send someone a 1099, and how you do it.
• Explain the importance of recording income and expenses in an organized (even automated) fashion.
• Explain, in simple terms, what travel expenses may be considered business expenses.
• Explain, in simple terms, how rent or mortgage of a studio, office, or home space might be considered a business expense.
• Explain how paid student loan interest is a deduction, while student loan principal payments are not.
• Explain two different strategies on how to calculate estimated quarterly taxes.
3. Out Of Your Head, Into The World
At some point, those carefully crafted documents need to enter the world! Now that you've compiled the necessary ingredients for a communications toolkit that accurately and authentically represents you and your work, Amani Olu walks you through the practicalities of storage and usage as well as the big picture reasons for why you need to share it with potential collaborators and partners moving forward.

This lesson consists of a 4-minute video and hours of research opportunity.
Summarize the components of the artist toolkit.
Discuss the introduction of the toolkit to potential collaborators.
Tie the use of the toolkit back to core values.
Empower Black artists to create and use a set of documents for more accurate and equitable representation.

• Define Schedule C, what is included, and what is calculated.
• Explain the importance of tracking expenses in a consistent fashion.
• Explain why it is important to show a profit, and differentiate between business and hobby expenses.
• Explain how a percentage of your rent or mortgage interest might be a legitimate expense.
• Explain why childcare is not a business expense (though it can appear on a different part of your return).
• Explain when clothes, hair, special equipment, meals, travel, pets, and their food could be business expenses.
• Explain what constitutes a receipt.
• Explain how student loan interest enters your taxes and what the cap is.
• Define the word "exclusive" in relation to taxes.
• Explain what is considered a business expense when you donate art.
• Explain why gym memberships are not a business expense.
• Explain when a retirement account may be a deduction.
• Complete the provided worksheet to present expenses to a tax professional.
Amani Olu
Founder of Olu & Company
Dubbed the "King of multi-tasking" by Anthony Haden-Guest in The Art Newspaper, Amani Olu is a serial entrepreneur with a strong background in exhibition making and art writing. He is the co-founder of Humble Arts Foundation, a 501c3 that began to support and promote new art photography in 2005. From 2008 to 2012, he curated numerous exhibitions of contemporary photography, and spearheaded the four-part series Young Curators, New Ideas. In 2011 he joined Nadine Johnson & Associates as an art publicist for clients such as the Brant Foundation Art Study Center, Marlborough Chelsea, and the Dallas Art Fair. Eighteen months later, he was named managing editor of Whitewall, having previously contributed articles on artists William Eggleston, Zoe Crosher, Elad Lassry, and Rashaad Newsome. He left to establish Olu & Company, a marketing and business consultancy for individuals, businesses and organizations in the arts. Amani makes art under the name "Scott Avery," and is currently developing IMG SRVR, a visual cloud storage service for creative industries.Image © James Adams
ACKNOWLEDGEMENTS
While Amani is directly addressing Black artists with advice gained from his lived experience, BIPOC creatives will likely find the videos helpful. White administrators are also encouraged to watch the course to evaluate and update language and editorial processes they currently use, to respectfully facilitate and accurately reflect the stories of the artists they serve.
Course material:
The video scripts for this course were written by Amani Olu with feedback from Heather Bhandari and Dexter Wimberly. Thank you to Alexis Callender, Julia Clark, Rice Gallardo, Onaje Grant-Simmonds, Mei Kazama, Deborah Obalil, Jay Payton, and Ann Tarantino for their additional support.

This series is made possible, in part, with the financial support of the Association of Independent Colleges of Art and Design (AICAD).
Author, Faculty Member at New York University
Holding an MFA and an MBA, Amy studies the friction between art and business and proposes new structures to support economic sustainability for artists. Her third book, Economics of Visual Arts, was published in the fall of 2021 with Cambridge University Press. Amy is also author of two other books, Museum Legs and Art Thinking. Serving on the arts administration faculty at NYU, Amy researches what would happen if artists retained equity in their work. Her work on fractional equity has appeared in Management Science (with Kraussl) in the "Fast Track" intended for "high-impact research that is of broad interest."


Amy's work has been featured in The Guardian, Harpers, The Atlantic, the Financial Times, Artforum, and The Art Newspaper. Her early work with the artists' cooperative project Trade School was covered in the New York Times and The New Yorker. She speaks widely including at the Aspen Ideas Festival, Meaning Conference (Brighton, UK), and The Conference (Malmö, Sweden). She has taught at Williams College, the Rhode Island School of Design, the School of Visual Arts, and California College of the Arts, and is a past recipient of the Sarah Verdone Writing Award from the Lower Manhattan Cultural Council.


Image © Shieva Rezvani